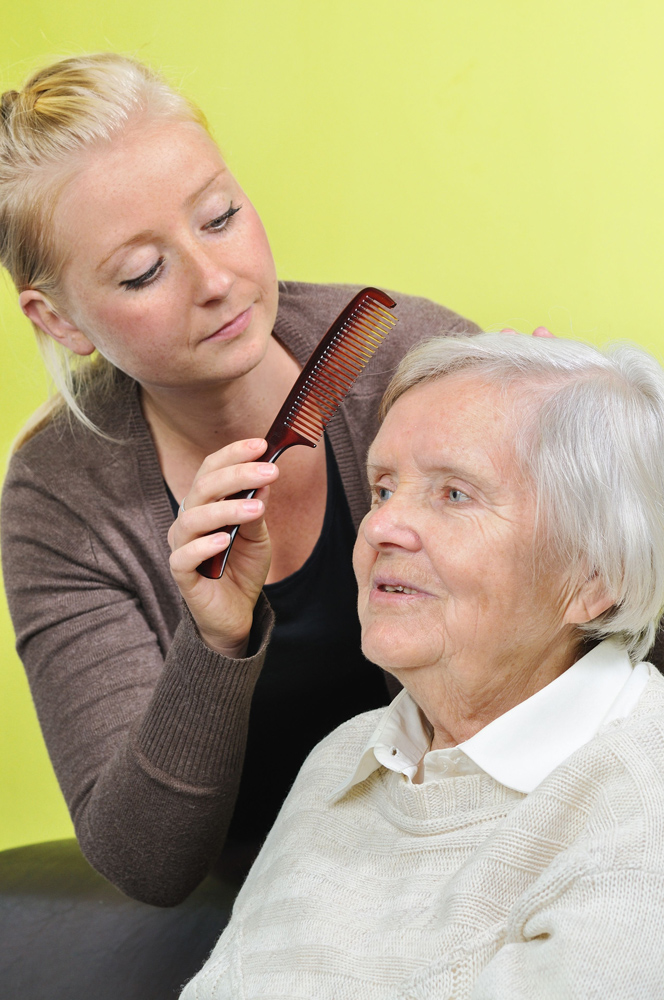 Alzheimer's disease is a long-suffering and debilitating condition. It is a form of dementia that causes memory loss and also affects daily behavior. Alzheimer's is commonly found in seniors 65 and older, but can also be a side effect of a stroke or trauma. As the Alzheimer's patient continues to experience memory loss, it can be very difficult on their family members.
The family caregiver can often feel helpless or frustrated and does not know where to turn for help. At Attentive Home Care, we provide service with compassion for Alzheimer's patients and their families. Our staff is professionally trained to manage and care for the day-to-day issues of people with Alzheimer's, to keep them safe in their own home, while lending a helping, understanding hand any time of day or night.
We can help with daily care of the Alzheimer's patient's direct needs such as bathing, dressing and mobility or with domestic services such as laundry, meal preparation and housekeeping. Most importantly, our staff will watch over your loved one to ensure his or her safety.
The routine of daily living is of utmost importance in maintaining some normalcy for the Alzheimer's patient. A sense of consistency for each aspect of day-to-day living is highly appealing for people with Alzheimer's. The Attentive Home Care staff understands each family has their own routine, their favorite meals, and their own rhythm of daily living. Keeping that structure and familiarity ensures the best possible living situation for your loved one.
It is not only essential to establish a daily routine, but also to have the Alzheimer's patient's routine take place in their home. By choosing Attentive Home Care to help your loved one in this difficult time, you are choosing to provide them dignity and comfort in the place they are most comfortable. The Alzheimer's patient will sleep in their own bed, use their own household items, and be surrounded by family members.
In addition, by having Attentive Home Care staff meet daily needs, your peace of mind is assured. An extra pair of hands, an extra set of eyes and an extra adult's capabilities can reduce the sometimes overwhelming needs of a patient with Alzheimer's.
Due to the progressive nature of Alzheimer's disease, our Attentive Home Care staff understands and works with patients throughout all stages of the developing processes and procedures that help them to feel comfortable and secure during an uncertain time. Our staff members ensure personalized attention and a helpful one-on-one relationship with the Alzheimer's patient.
Home Care For Southeastern Massachusetts
We serve the SouthCoast MA, Cape Cod, and South Shore MA region, including the cities & towns in the following MA counties:
Barnstable County MA: Barnstable, Bourne, Brewster, Buzzards Bay, Chatham, Dennis, Eastham, Falmouth, Harwich, Hyannis, Mashpee, Orleans, Provincetown, Sandwich, Truro, Wellfleet, & Yarmouth.
Bristol County MA: Acushnet, Assonet, Attleboro, Berkley, Dighton, Fairhaven, Fall River, Freetown, New Bedford, North Dartmouth, Raynham, Rehoboth, Somerset, South Dartmouth, Taunton, & Westport.
Plymouth County MA: Brockton, Carver, Duxbury, East Bridgewater, Halifax, Hanover, Kingston, Lakeville, Marion, Marshfield, Mattapoisett, Middleboro, Onset, Pembroke, Plymouth, Plympton, Rochester, Wareham, West Bridgewater, & Whitman.